What is 311
Lafayette?
311 Lafayette is a convenient all-in-one tool for connecting with government. You can submit and track service requests online at 311Lafayette.Services or by dialing 3-1-1.

Why is 311 Lafayette not letting me create an account?
When registering for a 311 Lafayette account, you must first enter your email address and then click the "Send verification code" button.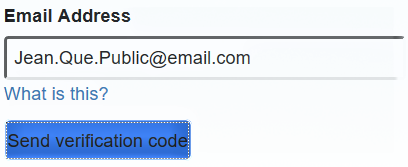 Next, check your email, enter the Verification code in the box and click the "Verify code" button. After filling in your information, click the "Create" button to complete your 311 Lafayette account registration.

Do I have to give my name when submitting a request to 311 Lafayette
?
At this time, all service requests can be submitted anonymously. Name, address and phone number may be required for some call types to allow for departmental follow up. 311 Lafayette will not require contact information unless the department responsible for the service request has indicated a need for it.

What happens after I submit a request to 311 Lafayette?
After submitting a service request, it is automatically sent to the appropriate department for response.

How can I track my existing request in 311 Lafayette?
A service request can be tracked using the unique case number provided after a service request is submitted. (Ex: CAS-01060-J2D3Y6) Use this case number to check the status of your service request at 311Lafayette.Services or as a reference when calling 3-1-1.

When do I use 311, and when do I use 911?
Dialing 3-1-1 provides you easy access to non-emergency police services, from filing police reports to talking to police personnel in your district. You should dial 3-1-1 if the incident you are reporting has occurred and the offender is gone from the scene. You should call 9-1-1 if the incident you are reporting is in progress and the on-site presence of a police officer is necessary to help resolve the matter (e.g., burglary, incident involving injuries, drug activity, loitering, panhandling, prostitution, noise complaints, etc.).

How can I submit a request that is not listed on 311 Lafayette
For service requests not listed at 311Lafayette.Services, dial 3-1-1 or 337-291-8200 during regular business hours (M-F, 8 am-5 pm) to be connected to an operator who can assist in submitting your service request.